SUMMER 2024 EVENT PACKAGES

LAUNCHING IN....


1
BOOK YOUR EVENT PACKAGE
Guarantee your spot on events that will sell out with just a £10 deposit.
2
3
4
5
The biggest events in Sunny Beach brought to you by the original promo team & Sunny Beach nightlife experts! 
Wanting a Pool Party, Full Moon Party, Barcrawl, UV Glow Party or a Boat Party? We have it all.
Think Sunny Beach nightlife, think Sunny Beach Takeover!
A little bit of Thailand comes to Sunny Beach! The buckets will be flowing until the early hours of the morning at the biggest beach event in resort. 
MILLENNIUM: ALL NIGHT FREE BAR
Yeh, you read that right! Drink from 00.00 'til close on whatever you want. Vodka, Whisky, Rum, Gin, Amaretto, you name it and we'll have it!
Get yourself to DGV where you'll see huge international artists and reality TV stars!
Think UV Paint, Free Bar and a night ending at 7am! You'll be glowing under the UV lights at DGV with 2000 other Takeover guests!
Single? Taken? Or is it complicated? They say 'What happens in Sunny Beach, stays in Sunny Beach'. Let's see where the night takes you! 
DGV, the most popular club in Sunny Beach, takes the party onto the waves. We really don't know what else to say. It will be epic!


Sunny Beach's biggest daytime event. Buckets, foam and powder paint!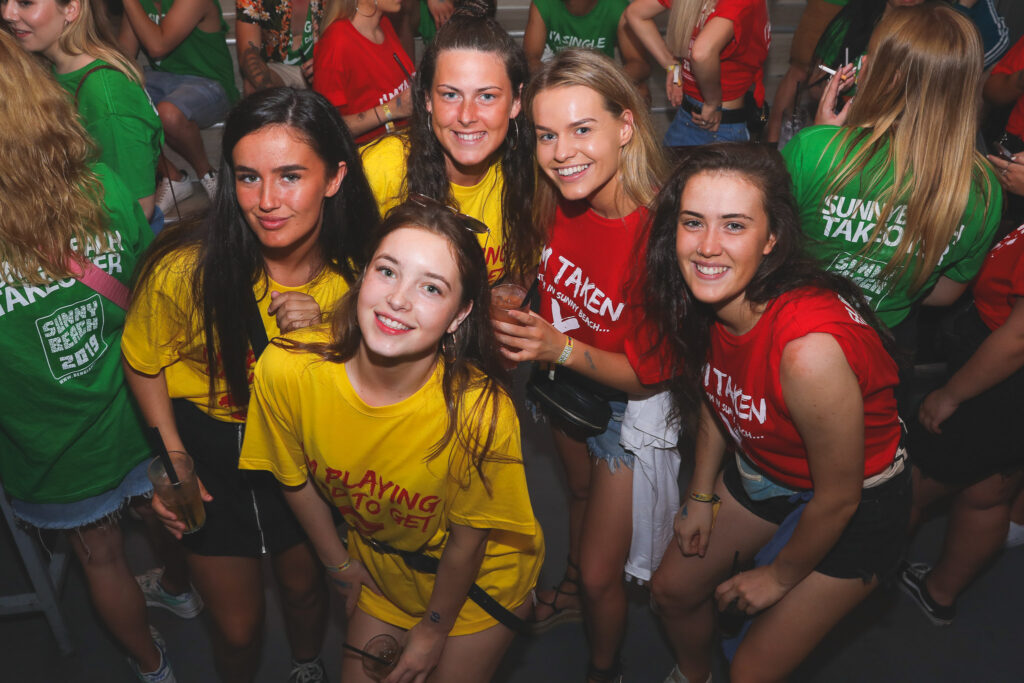 Why Sunny Beach Takeover?
THE
BEST
EVENTS IN SUNNY BEACH, BULGARIA
Founded in 2008 – Sunny Beach Takeover are the original international events team in Sunny Beach – bringing together young people from across Europe onto the biggest events in Sunny Beach and showing them what the nightlife in Sunny Beach has to offer! 
With over 12 years experience and working in partnership with DGV, the biggest club in resort, Sunny Beach Takeover know how to make your week on holiday the best of your life!
Whether you're a stag do in Sunny Beach or a lads/girls holiday – we've got you covered! When in Sunny Beach, you want to be with the market leaders in Sunny Beach nightlife who host the biggest events in Sunny Beach!
Sunny Beach Takeover prides itself on developing new, fun and fresh events with a Sunny Beach twist. In 2013 we brought a little bit of Thailand to Sunny Beach when the Full Moon Party was born in Bulgaria – the Full Moon is now the biggest beach event with regular crowds of 800+. 2014 saw the birth of the "UV Glow Party" and 2015 we had the huge "Sunny Beach Live" launch with international tv and DJ stars. Regular guests include MTV Geordie shore's Gaz, Sophie Kasaei, Chloe Ferry, and Joel Corry, Love island's Sam Bird as well as ITV2 Ibiza weekender's Jordan Davies & Isobel Mills.
2023 is proving no different, with more DJ's, TV stars, celebrities and record labels joining Sunny Beach Takeover once more in Bulgaria.
JORDAN DAVIES & ISOBEL MILLS
Sunny Beach If you are looking for the perfect combination of beach and party on your holiday, Sunny Beach is the place to be! It was my best vacation with my friends! We chilled on the beach and went to different bars, but we always ended up at DGV where the party never ends! But make sure you get an event package it really made the difference, we got new friends and had the funniest time with them 💃🏼
Great party bit to expensive drink Was here last year with my friends. we usually ended up here, was good music and lots of people to party with. so basicallyy it was the best party but the drinks was a bit to expensive compared to rest of sunny beach.
Sunny Beach I've been to sunny beach every summer for 6 years now, and I am still finding it hard to complain. If you want to go to on a party holiday this will sort you out every summer! There's always a lot of events going on and always new people to meet! Been to DGV every night every year and the streak continues! Will definitly be coming back this summer, and most likely gonna continue for the next few years!
Sbto Alright place to be honest. The gold package was worth it but not all the events lived up the hype. Staff mostly friendly with a few exceptions but that's normal. Definitely give these boys a go if you're in Sunny Beach.
Sunny beach takeover Second time in sunny beach and all I can say is wow!! Sunny beach takeover made this holiday. We did all the events and were in DGV every night until the sun was out. My favourite event is the traffic light bar crawl.If you're going here for a party holiday I recommend you to contact one of the reps for sunny beach takeover and I'll promise you your holiday will be the best one in your life!! Coming this summer as well and I'm so excited to spend every night in DGV with sunny beach takeover and their events.
Best Summer holiday yet Went with a few lads for a holiday after hearing about the cheap booze and decent night life but that was an understament nothing compares to the sunny beach takeover group with the wild nights and days you end up having, honestly best holiday yet and can't wait to go back again.
Andy O'Donovan
2020-03-05
It Just Gets Better & Better! Came to Sunny Beach for the first time 2016, End of story been trapped since .Ended up in DGV every night after being on the Sunny Beach Takeover events. The events were amazing, The reps were so helpful and so much fun. Flight and Package booked for this July and I cant wait to get back again.
Kristian Stauru... L
2019-12-09
Did i just had some more time I had a blast of a trip too Sunny Beach. The week was fantastic and was a experience of af life time. We had the funniest parties on DGV - the best club in the resort for sure and the Sunny Beach Takeover Crew created the best environment to meet new people. Unfortunately we only booked one week and i was ready for more. Next year i will go back with my mates for sure.
Best party! I went with my girls on a trip til sunny Beach, and already the first day we met some of the sunny Beach takeover staff, they knew for sure how to party, i loved their events, it was a party of my life every Day, cheap drinks and buckets whats not to like :)) one Night we went to candy club and iceberg, we did our own barcrawl but we ended up at dgv ofc, definitely coming back next summer to party with sunny Beach takeover!!!!
Sunny beach Best holiday I've been on dgv was by far my favourite place friendly staff and fun environment I will certainly be going back next year
Keep up-to-date with the latest news and experiences at Sunny Beach.